The end of the traditional job interview?
Right now in this time of coronavirus should I be applying for a new job? What does it feel like to take part in an interview or an assessment center via videoconferencing? Many job starters and experienced professionals looking for a change of employer have questions around the digital recruitment process. Ann-Kathrin Sohl went through it. She joined HDI Global SE on 1 July and is now working on the HDI Global 4.0 programme as project leader. In this interview she tells how she came to HDI in the midst of the coronavirus pandemic.
Ann-Kathrin, how did you experience the recruitment process?

The recruitment process for my present job began in March. That coincided exactly with the shutdown. Initially, I was contacted by phone and had a chance to get to know the person who would later become my supervisor and learn about the field of work. At the end of March this was followed by an online written test, and two days later the assessment center via videoconferencing. I dialled in and things began with some short introductions. I was e-mailed two assignments, which I read through and was then able to obtain direct clarification of things I wasn't sure about. I had roughly an hour to prepare the first assignment at the desk in my home office – during this time everyone muted their audio. The presentation of my solution then took around ten to 15 minutes with subsequent feedback – I was able to see the HR specialist and my future boss live using the Starleaf app. The second task was completed according to the same pattern. Everything went really well.

How was it for you – taking part in an assessment center like this from home?
By and large, I found it to be more pleasant and less fussy doing it from home. Compared to a long day with an overnight hotel room – I was still living in Hamburg at the time – it all passed off quite quickly. The assessment center and the assignments as such only took between two and a half and three hours.
Needless to say, I had to make some preparations in my work environment. I even visualised some of the contents at home on a flip chart. The HR consultant from HDI had explained to me in advance on the phone roughly what was expected of me and had sent me an e-mail describing the materials that were needed and which app I should instal. In short, I already felt very well taken care of even beforehand. I certainly wasn't any more nervous than with a face-to-face meeting.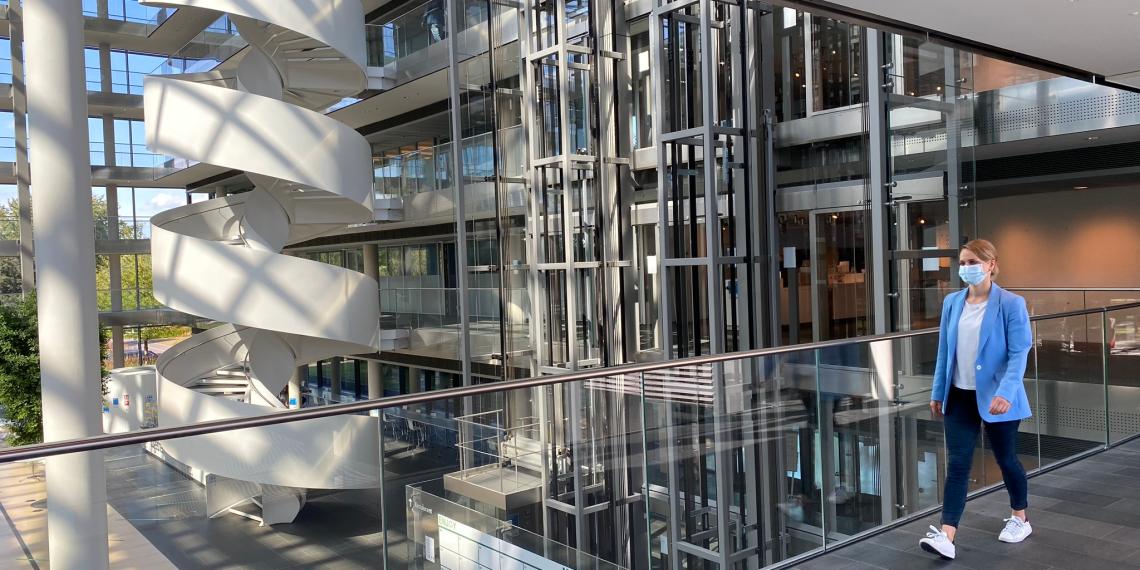 Can you really get to know each other in an online meeting just as well as in "real life"?
It was definitely a different feeling. Solving factual, content-based tasks via videoconferencing went really smoothly. The other aspect was the interview situation. That's more difficult because you can't feel the atmosphere in the room in the same way – especially with an unknown counterpart. It's easier to read facial expressions, gestures and emotions in a real dialogue. But a videoconference really is a very good substitute when it comes to having a substantive discussion with various dialogue partners.
No problems at all?
In fact, I was unable to dial into the videoconference for the first few minutes. That's why the "getting to know you" part took place over the phone at first. But that didn't present any problems whatsoever, all the participants were very relaxed about it. At home I was lucky enough to be in the luxurious position of working in peace on my own. Still, I had previously asked the neighbours to keep things quiet during that time – i.e. not to make any construction noise or banging sounds. Some days earlier my neighbours had actually begun doing some DIY projects.
(laughs)
I am meeting you today at HDI-Platz, you are sitting here with your colleagues in an open-plan office. How have you settled into your team and your job?
My first week was planned as an attendance week because the rules had already been eased somewhat in July – although of course with hygiene and distancing requirements still in place. I am happy to say that right away on the first day I had the feeling of always having been there. As a general principle, our team is still working from home. That said, I find it very nice to have the opportunity to come into the office as well and exchange ideas with my colleagues in person.
What do you think is better: the traditional, face-to-face recruitment process or the digital "coronavirus version"?

Overall, I actually found the purely digital process to be more pleasant, streamlined and flexible. I myself am more readily available if I don't have to free up an entire day – and conversely I also get quick feedback from the company on its decisions. It is good that a digital approach has been found instead of needing a long drawn-out process. In any case, I am absolutely thrilled now and happy to be here.
The interview was conducted by Josefine Zucker in Group Communications.