Mum is the boss
Four months ago, Anett Pandurics became a mother. It quickly became obvious that she would continue as the Chief Executive Officer of the Board of Posta Biztosító in Hungary. Just how she would manage to combine the two roles emerged after she gave birth.
How Anett Pandurics reconciles family and career.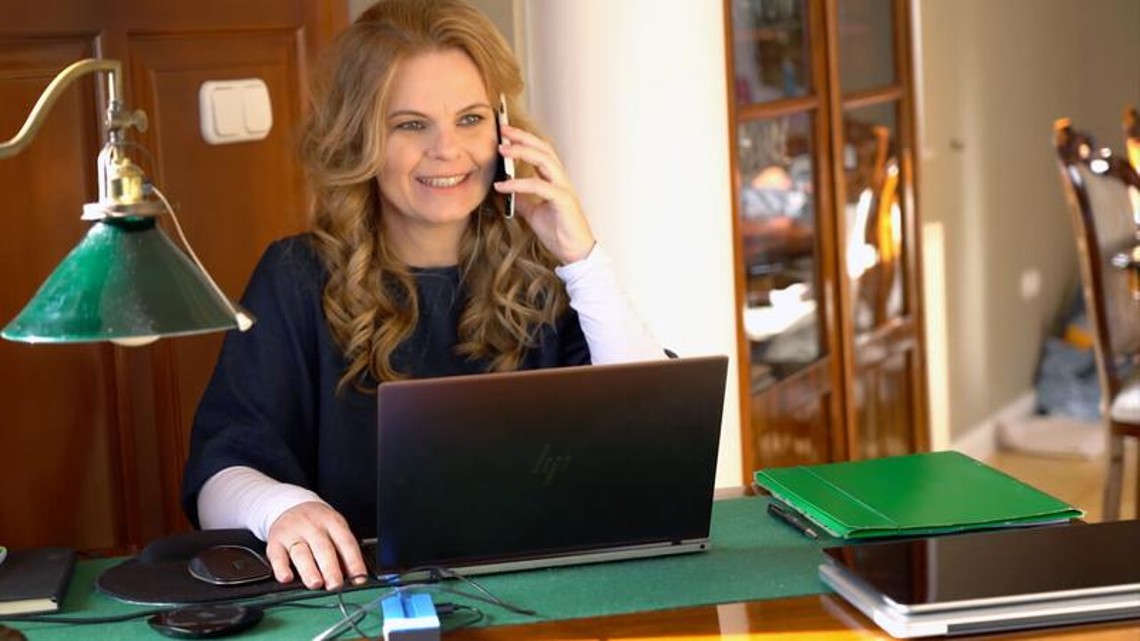 In reality, Anett Pandurics has two jobs. In one of the occupations, she has headed Posta Biztosító, the Hungarian subsidiary of HDI International AG, as Chief Executive Officer and President of the Board for the past 15 years. And the other is called Bence, he's four months old and her first child. Since her son was born, she has been at home – but she is still managing the trajectory of the company.
In Hungary, it has been standard practice over many years for women to take three years off work after the birth of a child. However, an increasing number of them are returning to part-time work at their workplace, generally speaking after one year. To a certain extent, Anett Pandurics exemplifies this new world of work in which many people don't want to choose between family bliss and career progression. Both need to have a place in their lives. This is particularly the case for mothers. And Posta Biztosító makes this possible.
Top managers go part time
The company supports women employees when they want to return to part-time work, and this includes executive positions. Their expertise is far too valuable for an employer to do without them. The Head of the Legal Department and the Head of Sales led their teams according to this model when their children were small. Just like many other women at Posta Biztosító who returned part-time. And like them, Anett Pandurics didn't want to give up one part of her life for the other.
"I have been part of the story since the very beginnings of Posta Biztosító and to a certain extent, this company is my professional baby", explained the 46-year-old. "We have created a successful company here on a greenfield site. Naturally, that generates a strong link between me and Posta Biztosító, not least an emotional one." At the same time, she was also yearning to have her own family. And the elephant in the room was: How on earth could that work?
Teams take more responsibility
"When I was expecting my baby, we had a lot of discussions in the management team. This was not about whether my roadmap was possible. We only thought about how we were going to make it possible for me to meet the demands of both roles." She recalls that right from the start, the team at Posta Biztosító and the management at HDI International AG were behind her. "The idea is that I move to emails, phone and video conferences in all cases where my presence is not absolutely essential. It is really fantastic that I can accomplish much more from home with the technology available today than I could even just a few years ago."
During her baby break, other people took over her functions, particularly her two colleagues on the Management Board. But the individual teams are now also taking on more responsibility – ultimately Anett Pandurics' pathway is only possible because the members of staff are in a position to act on their own responsibility. "At the moment, I am restricting myself to a few topics. However, I am remaining heavily involved in any issues relating to the strategy of the company and the strategic direction with our partner, the Hungarian Post. And naturally I am closely involved with any resolutions passed by the Management Board."
Support from a strong partner
Even this level of involvement requires good organisation – along with a partner who supports her endeavour. "When a board meeting is scheduled, we all come into the office together. While I am in the meeting, my husband is looking after our son outside," explains Anett Pandurics. "This means that time and efficiency have become even more important factors. Meetings now come to an end punctually."
But the best organisation can only provide a certain amount of preparation for life. "To be honest, in spite of all the preparations, the time with my child continually produces lots of surprises and challenges," said Anett Pandurics. "It's full of joy and happiness, while at the same time, my new life requires a completely different sort of time management." At the moment, she reads and answers emails when her son is sleeping. "Luckily, that works well. But naturally at the moment, it's not easy to find time for everything in my life at home – particularly getting a decent sleep!"